Hosting a Friday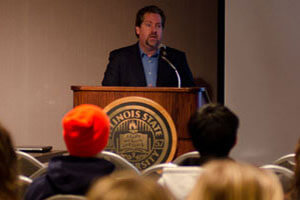 What do I have to do?
Contact President, Bob Preston at rlpresto@IllinoisState.edu to pick a Friday to host.
Discuss the catering options with Bob. The food selection should be sufficient for a minimum of 25 people.
Present your talk.

At 4:30 p.m., we will begin the scheduled program. The President or another officer will open the meeting and make any necessary announcements. You or the sponsored speaker will then be introduced.
Please make the length of your presentation about 30-40 minutes. This will allow time for questions and informal discussion.

Relax and visit with the group.
Would you or your organization like to sponsor a University Club meeting?
The standard full sponsorship option includes providing one hot and two cold hors d'oeuvres plus a selection of soft drinks for 25 people. The cost is established on a sliding scale by Catering Services.  Partial sponsorship is also possible by providing additional hors d'oeuvres for a U-Club sponsored program. A large variety is available – please see the Catering Services website for details. You may also call Campus Dining Services at (309) 438-2222. All Catering arrangements must be submitted to Catering Services at least two weeks in advance of the program and coordinated with the University Club.